One Dog's Health . . .
FACT - The normal body temperature for a dog is 101.2 degrees Fahrenheit.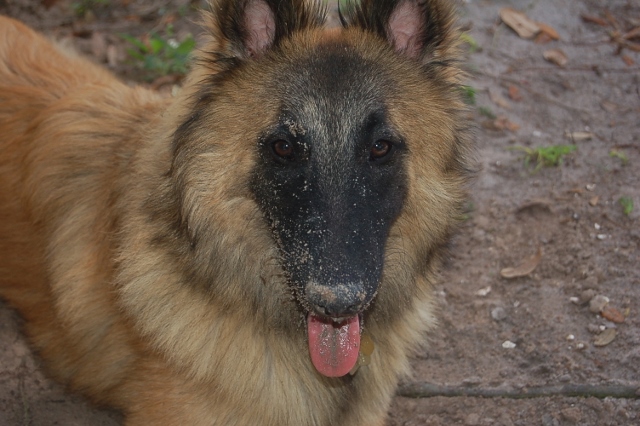 Anesthesia for Belgian Shepherds-AN ANESTHETIC PRIMER FOR THE BELGIAN OWNER-LIBBYE MILLER DVM
How can you do your best to insure a safe anesthetic for your Belgian?
Look for a veterinarian who is willing to do procedures without anesthesia if possible and who does appropriate pre-anesthetic screening. While it may prove difficult to find a veterinarian who has much experience with Belgians, look for someone who will listen seriously to your concerns and tell them that Belgians seem to handle anesthesia much like sight hounds.
As far as which anesthetic is used, each patient must be evaluated individually. In my experience, (22 years) the safest way to induce anesthesia for the majority of patients is to give Valium and Ketamine intravenously, intubate the dog, and maintain it on Isoflurane. An alternative, especially for the sick or elderly patient, is to mask the dog down with Isoflurane, and then intubate and maintain on Iso.
I've used the Valium, Ketamine, Isoflurane combination on my own Belgians, my elderly, diabetic Sheltie who has kidney failure, on a 14 year old who had heart failure, kidney failure and a huge infected uterus--in fact, I use this combination of anesthetic for 99% of the procedures I do. Anesthesia is a state of controlled and reversible unconsciousness, and while nothing can make it 100% safe for every patient, you and your veterinarian can work together to make it the safest experience possible.
Read more at - http://www.bsca.info/health/anesthetic.html
DISEASES THAT AFFECT DOGS IN GROUPS OF DOGS - What you may want to know before going to the dog park -https://www.avma.org/public/PetCare/Pages/Disease-Risks-for-Dogs.aspx
HIPS AND DOGS - About hip dysplasia and shepherds - link to info about hip dysplasia study
DIY FIRST AID KIT FOR DOGS - Basic first aid kit for dogs - How to make a first aid kit for pets
FAKE FLEA MEDICINES - how do you spot them? http://iheartdogs.com/beware-counterfeit-flea-preventatives-sold-online-find-out-how-to-spot-the-difference/
POISONING AND DOGS - Dogs can ingest a variety of poisons from anti-freeze, to raisins to poisonous plants. ASPCA poison helpline - 1-888-426-4435
Here are some links to poison information and prevention - http://pets.webmd.com/dogs/guide/top-10-dog-poisons
http://www.aspca.org/pet-care/animal-poison-control/toxic-and-non-toxic-plants
http://www.vetinfo.com/poisonous-dog.html
CPR for dogs - https://www.youtube.com/watch?v=0AFrUiRIeVo
BACK TO HOMEPAGE - ONE DOG PLACE